On Tuesday the 4th of February, the Assistant to the Provincial Grand Principals EComp David Dunn, was welcomed into Leopold Chapter No.1775 by the First Principal EComp Gordon Lewis. Commenting that 50th celebrations in the Royal Arch are not common events, EComp Dunn stated that East Ribble District is fortunate enough to have two celebrations this February, before he introduced the accompanying District delegation to a full Chapter room.
The Scribe E, EComp Gordon McMillan read the minutes from Gordon's exaltation 50 years ago, which was followed by a tribute by EComp Ian Ogden who was corrected a couple of times by the celebrant for getting some dates of his masonic history wrong!
EComp Dunn then recalled to the assembled Companions about how the world was in 1970, including events, films and music from that year. He then invited the East Ribble District Chairman EComp Dave McGurty to read the Most Excellent Grand Superintendents letter to EComp Hunter. This was followed by EComp Hunter perambulating the chapter with the Provincial Director of Ceremonies EComp David Bristol, to the acclaim of the companions who were present. EComp Mike Stubbs, the Royal Arch District Officer presented EComp Hunter with his distinctive lapel badge, celebrating his 50 years of service to the Royal Arch and Leopold Chapter. At the festive board the companions enjoyed a fantastic meal with the evening being completed with EComp Hunter's fond recollections of his time in Leopold Chapter.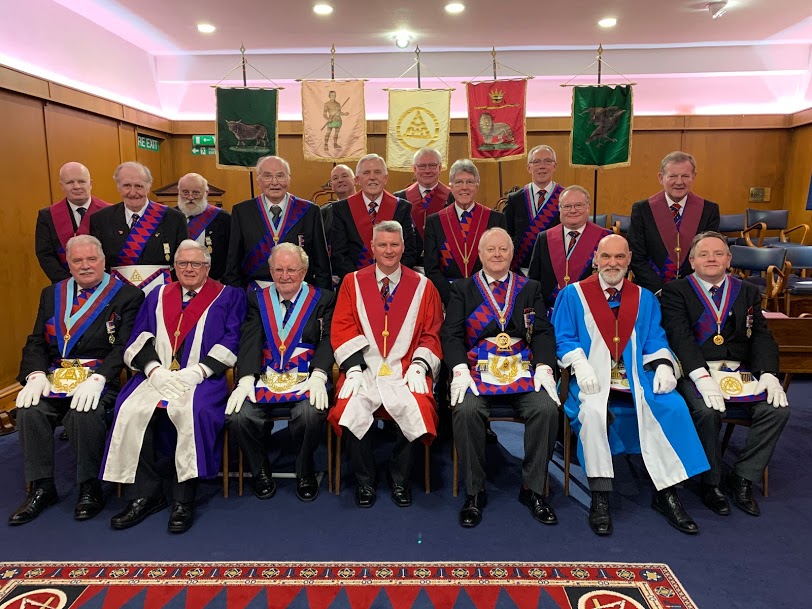 Article and Images: East Ribble District Team