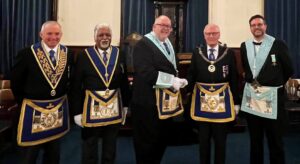 In January 2023, The Lodge of Prudence 219 entered it's 249th year of Freemasonry and celebrated by installing WBro Andrew Marsh into the Chair of King Solomon.
Deputy Provincial Grand Master VWbro John Farrington was set to attend, however illness forced him to postpone his visit. WBro Peter Rhodes APGM stepped in at the last minute to act as Representative and was supported by WBro Doug Smith and a delegation of District Officers.
WBro Martin Ross led the ceremony, with WBro Ken Lambshead DC managing the Lodge room and a number of last-minute changes to Installing Officers due to illness.
WBro Marsh has had a long Masonic Career, with this being his 5th time in the chair – but the first time as Worshipful Master of Prudence. He had the privilege of installing his son, Bro William Marsh as Junior Warden that evening.
WBro Rhodes then presented WBro Ross with the Past Masters Jewel on behalf of the Lodge.
During the Festive Board, WBro Martin Ross IPM gave a toast to the Master, thanking WBro Marsh for his help, support and guidance during his time as Senior Warden. He noted that he was looking forward to being able to offer his support now as IPM.
Following the Festive Board, WBro Doug Smith thanked the Brethren of Prudence for the warmth of their welcome and hospitality. He congratulated all those who participated in an "exceptional" ceremony and commended WBro Ken Lambshead for managing both the Lodge room and Social Board calmly and efficiently.