On Tuesday 19th April, Fraternity Lodge No 4315 held its Centenary celebrations.
The lodge was opened by the Worshipful Master, WBro Eric Barrow, PProvSGD.
The inner guard reported and admitted the Provincial Director of Ceremonies, who informed the master that the Provincial Grand Master, RWBro Robert Ian Frankel was in attendance, with a deputation, and demanded admission. The RW Provincial Master was received into the lodge and was offered the gavel, which he took, and after introducing all the people in his deputation, he continued with the lodge business. The next item was to receive a short History of the Lodge by Bro Joseph Coker. This history was very well researched by the most junior brother in the lodge and was very well received. The next item was to receive an Oration by the Provincial Grand Chaplain, WBro Russell Conn, PAGDC. This again was very well researched, going back in to before the lodge was formed, just after the end of the first world war, when there was a large increase in Freemasonry, where people wanted to continue the friendship and comradery that had been established within the forces.
WBro Frank W Baxendale, PProvGSuptWks, then presented a cheque to the RW Provincial Grand Master, for a donation from the lodge to the 2026 Festival. The cheque was gratefully received by the RW Provincial Grand Master, who thanked the lodge for their kindness.
There was an extra item on the summons, which only a few select people knew about. Appointments and promotions are usually made at the Provincial meeting, but the Provincial Grand Master has the authority to appoint or promote at any suitable meeting. RWBro Frankel said that tonight was such an occasion. He went on to explain why this brother was receiving this honour, saying how well he was thought of both in the lodge and further afield. He then asked the Provincial DC to bring the Master in front of the pedestal. The master was heard to say that he was so surprised that you could knock him over with a feather, to which the Provincial Grand Master replied, how do you know that its you. He then went on to invest WBro Eric Barrow as PProvGSuptWks. The master was processed around the lodge to the accolade of all who were present. The RW Provincial Grand Master then retired along with his deputation, leaving the newly promoted master to close his lodge.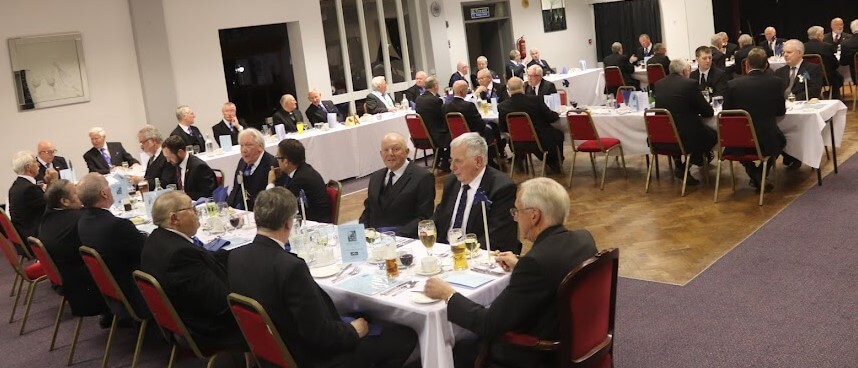 The centenary celebrations continued into the social board, where every guest had a history booklet and a place setting showing the lodge's history and ancestry, which was fitting, as at the consecration 5 members of its mother lodge, Ardwick Lodge No 2185, were present, and 5 were present at its centenary celebrations.
© 2022, all text and images contained in this post are the property of the author and photographer respectively.