On Thursday, the 6th of March 2023, Albatross Lodge `NO.6164 celebrated 50 years in Freemasonry for Dudley Bostock.
Jim Hilton took the chair for the evening and opened the Lodge in due form. Following a report, Lee Grindley, Provincial Deputy Grand Director of Ceremonies, entered the Lodge and announced that Peter Hegarty, the Assistant Provincial Grand Master for the City West Area, was outside the Lodge and that he demanded admission.
Once the Assistant Provincial Grand Master, accompanied by a City West Area Delegation, was seated, the Worshipful Master offered him the gavel, which he was delighted to accept on this occasion.
The Assistant Provincial Grand Master introduced the members of the City West Area delegation, which included Mo Afsa, Assistant to the Provincial Grand Principals, Chris Armstrong, Area Chairman, Steve Wallace, Area Deputy Chairman, Andrew Foster, Area Mentor, Peter Tonge, Area Treasurer, Ben Davies, Area Communications Officer and Ian Macneill, Area Charity Steward.
The Assistant Provincial Grand Master asked the Deputy Provincial Grand Director of Ceremonies to place Dudley in the centre of the Lodge. Once he was seated comfortably, he gave a tribute to Dudley.
Peter Tonge then read the letter from the Provincial Grand Master before the Assistant Provincial Grand Master presented Dudley with the certificate celebrating 50 years in Freemasonry.
Derek Bryant then gave a personal tribute to the celebrant. Afterwards, City West Area Chairman Chris Armstrong presented Dudley with his 50th Pin before he was conducted around the Lodge to receive the acclaim of the brethren he justly deserves.
The Lodge closed, and afterwards, there was an excellent social board that saw the usual toasts, and another incredibly heartfelt toast was addressed to Dudley and the Lodge from members of Pegasus Lodge 5657 who had travelled up to support the Lodge and celebrate with Dudley.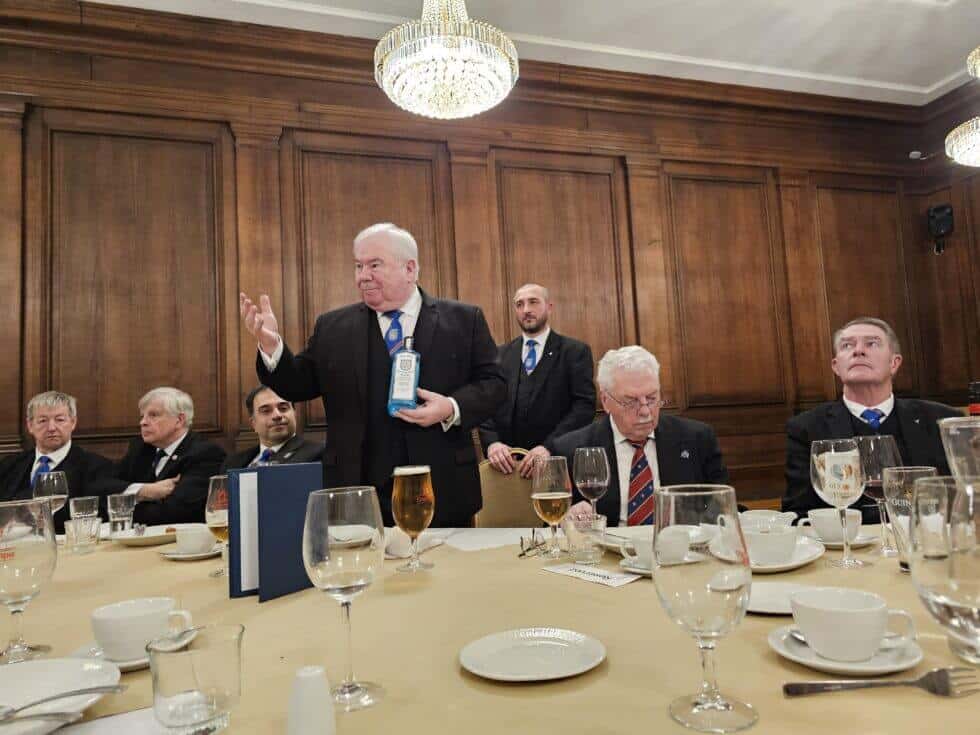 The Assistant Provincial Grand Master also presented the Lodge with a very special bottle of gin to be raffled for the benefit of the East Lancashire 2026 Festival.
All present signed a copy of the summons for Dudley, this was fondly displayed next to a copy of the summons from Dudleys initiation 50 years ago, which was signed by over 70 members, including Dudleys father, who was one of the founders of the Lodge.