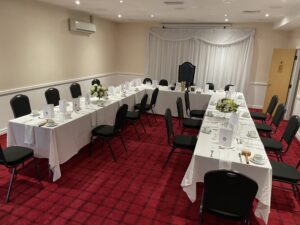 Earlier this week, the Eastern Area Team was honoured to visit Paletine Lodge 2447 for their celebration of 130 years.
The meeting was called off for a short time so the brethren could join their wives and families for refreshments, before returning to the lodge room to continue the meeting.
After the meeting the brethren of the lodge and the visitors retired to social board. This evening though, the social board was a very kind gift, bequeathed by Mrs. Alice Longworth (mother of Graham) and the late Mrs. Barbara Jones (mother of Martin) who specified that the sums left were to be used solely for the benefit of the Lodge members.
One last special mention, and the first time I have seen it at a social board. A place setting for absent brethren. On a plaque were the names of brethren who, in living memory, had passed to the grand lodge above.
Congratulations and thank you to the Worshipful Master and brethren of Paletine Lodge for a very special evening.