On Wednesday 14th December, Freemasons from across the Province joined Hope Lodge 54 to celebrate 60 years of Freemasonry for WBro Graham Adamson.
After the Lodge was opened, VWbro John Farrington Deputy Provincial Grand Master, accompanied by a large Provincial delegation, processioned into the lodge room and was handed the gavel by the Worshipful Master.
VWBro Farrington introduced the delegation, including Grand Lodge Officers WBro Peter Hewitt, WBro Eric Kirkbride and APGM WBro Peter Rhodes. He went on to introduce the Acting Provincial Officers and the District Officers in attendance.
On behalf of WBro John Entwistle who could not attend due to ill health, WBro Ian Dugdale led the tributes to Graham.
Graham was initiated into Hope Lodge by his Father in November 1962, where over 100 guests were in attendance. He was Passed and Raised the following year and quickly became an integral part of the Lodge. Taking the Chair of King Solomon in 1976, he then became Director of Rochdale Masonic Hall and District Chairman between 1978 and 1984. He again became Worshipful Master of Hope Lodge in 2007. Graham has also been Treasurer of Hope Lodge for 25 years.
Outside Freemasonry, Graham has also been a key member of the Round Table and Rochdale Chamber of Commerce.
Presenting Graham with an Illuminated Certificate, VWbro Farrington passed on the Provincial Grand Masters congratulations, before reflecting both on Grahams "Great service and dedication to Freemasonry" and the major events of 1962 – including the Cuban Missile Crisis, the Polio vaccine and incarceration of Nelson Mandella.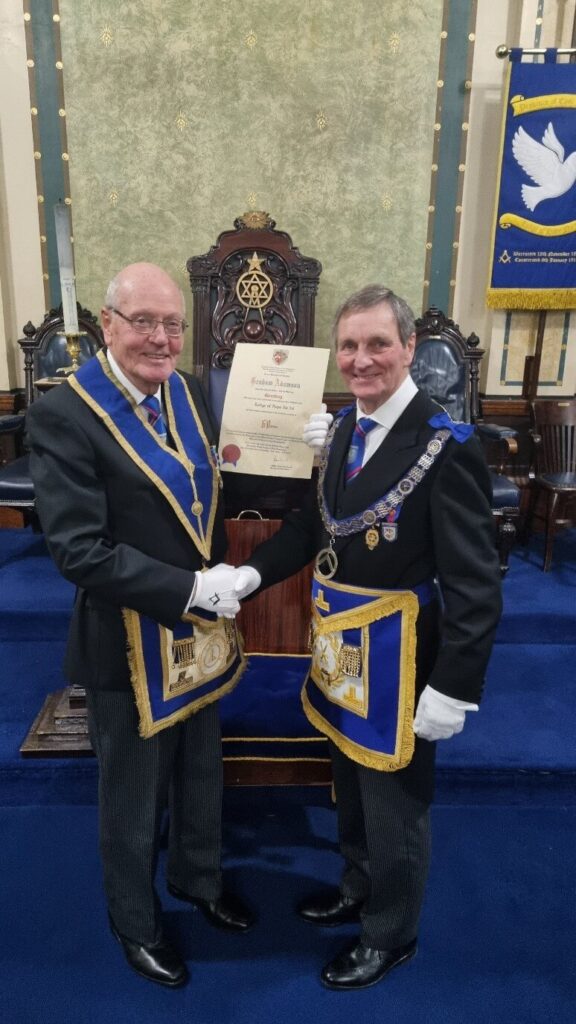 Before retiring from the Lodge, VWBro Farrington was presented with a donation of £500 towards the 2026 Festival by Hope Lodge.
The Festive Board that followed was full of good cheer. WBro Ian Dugdale (again on behalf of John Entwistle) led the tributes to Graham before presenting him with a restored 1918 Past Masters jewel.
Graham responded to the toast, explaining that he had been associated with Hope Lodge from 11 months old when his Father began bringing him to family events in the Lodge. He expressed his pride at this long and lasting involvement with the Lodge and that he was looking forward to his 70th anniversary!