Middleton's own World Dance Champions Mia Linnik-Holden and Andrei Toader took time out of their busy competition and rehearsal schedule to help Rochdale District Freemasons raise £1000 for charity on Saturday 20th May.
Mia and Andrei arranged a spectacular display consisting of 10 different dances (and multiple costume changes!) to demonstrate their skills in the art of Ballroom Dancing.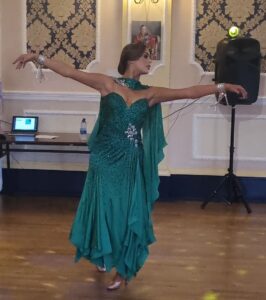 The event, attended by 60 Freemasons and guests, was held in Rochdale Masonic Hall's own fantastic Ballroom.
The World Champion couple wowed the audience with their agility, grace and poise and in-between dances, took the time to answer questions from the audience about their achievements, their rehearsal schedule and world travels competing across the globe.
The money raised will go to the Masonic Charitable Foundation which supports over 700 UK Charities with their important work, including Rochdale organizations such as Jolly Josh who benefited from a £7000 grant to install a sensory surface in their new facility.
Our special thanks go to the Lodges and individuals who sponsored a dance, helping to make the event a roaring success, including:-
Probity and Freedom Lodge
Benevolence Chapter
Hope Lodge
Harmony Lodge
Liberty Lodge
Naphtai Lodge
Rochdale Lodge
WBro Alston Hall
WBro Nigel Pilling
WBro Graham Morris