On Thursday 28th November 2019, Pilkington Lodge No. 6522 celebrated the 50th Anniversary of WBro Jim Paterson PProvJGW in fine style.
The ceremony had over 60 Brethren present and was presided over by WBro John A Griffin, APGM, after accepting the gavel from the current Worshipful Master, Bro Mark Walsh.  
A large District delegation was in attendance, along with some very distinguished guests, it is a measure of Jim's high regard in Freemasonry with the District Delegation numbering 19 including 8 Grand Officers.
The members and guests heard Jim's life story and masonic career told by WBro G W Leach PProvDGDC the current Lodge DC. Highlights included Jim's long and distinguished cricketing accomplishments, his working career in engineering and his National Service mishaps. His introduction to Freemasonry came about as a result of his draughtsman's skills being used to prepare seating plans for Ladies Evenings and eventually being invited to join Pilkington Lodge. Since being initiated into the Lodge on Thursday 27th November 1969 he has served as WM, DC and latterly as Lodge Mentor for many years.
The Golden Jubilee Certificate and the personal letter from the Provincial Grand Master, RWBro Sir David Trippier, were both presented by the APGM WBro John Griffin.
The Deputy District Chairman, WBro Roger Bowden, completed the presentations with a 50th lapel badge, on behalf of the Bury District.
The social board was a very happy occasion. The Dining room was full to capacity and with a splendid atmosphere it was a joyous evening.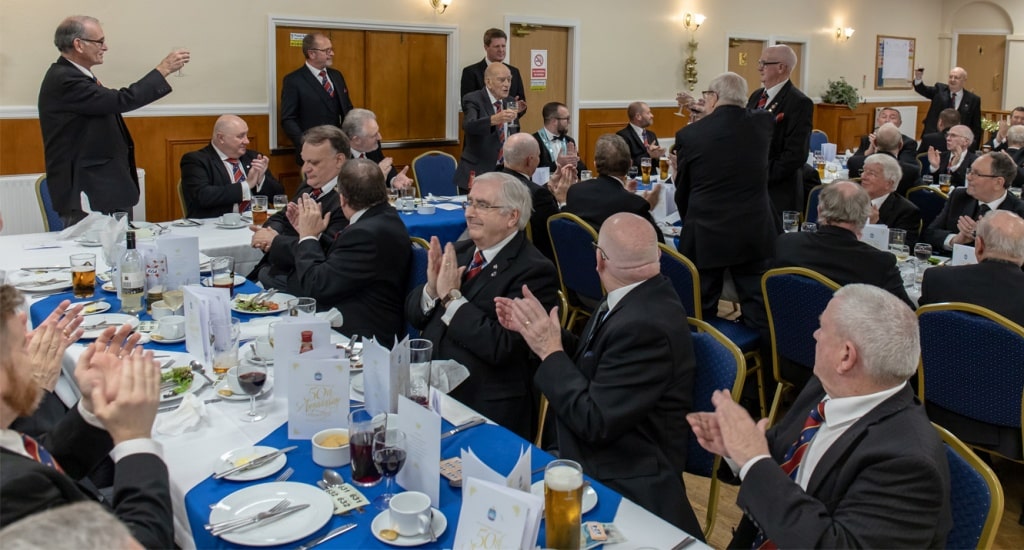 The toast to Jim's health was proposed by WBro David Buckley, in a most excellent, and personal way.  The response by Jim was very fitting of this splendid occasion.
The evening took place with 3 other members of the Lodge present who have already completed 50 years in Freemasonry, a remarkable achievement.
A great evening was had by all, one which Pilkington Lodge 6522 can be justly very proud of for many years to come.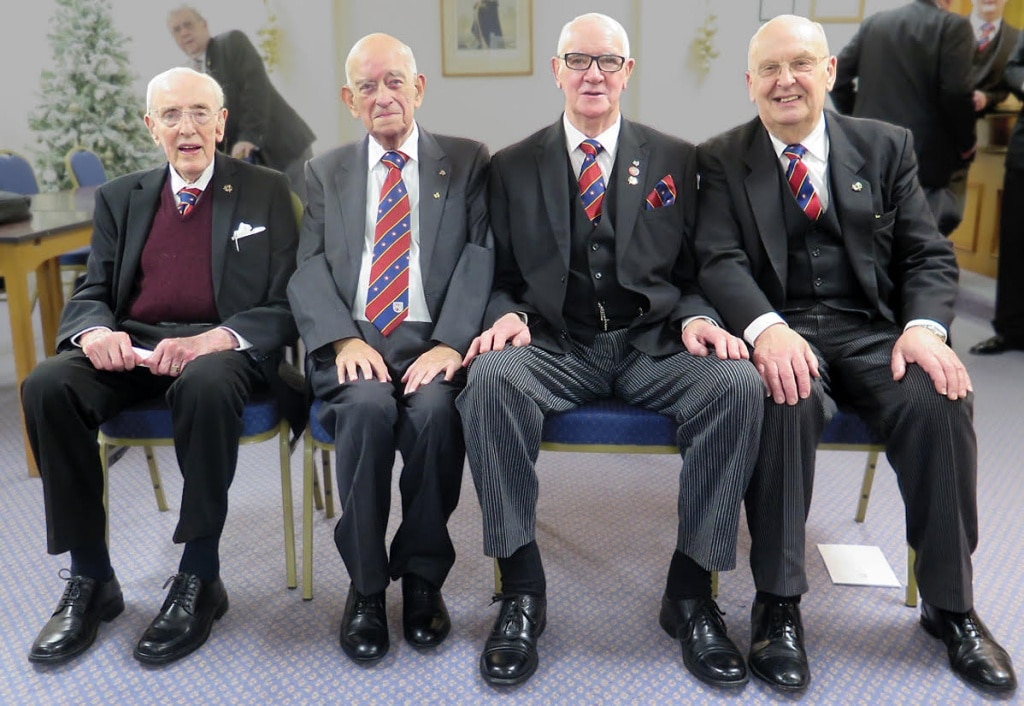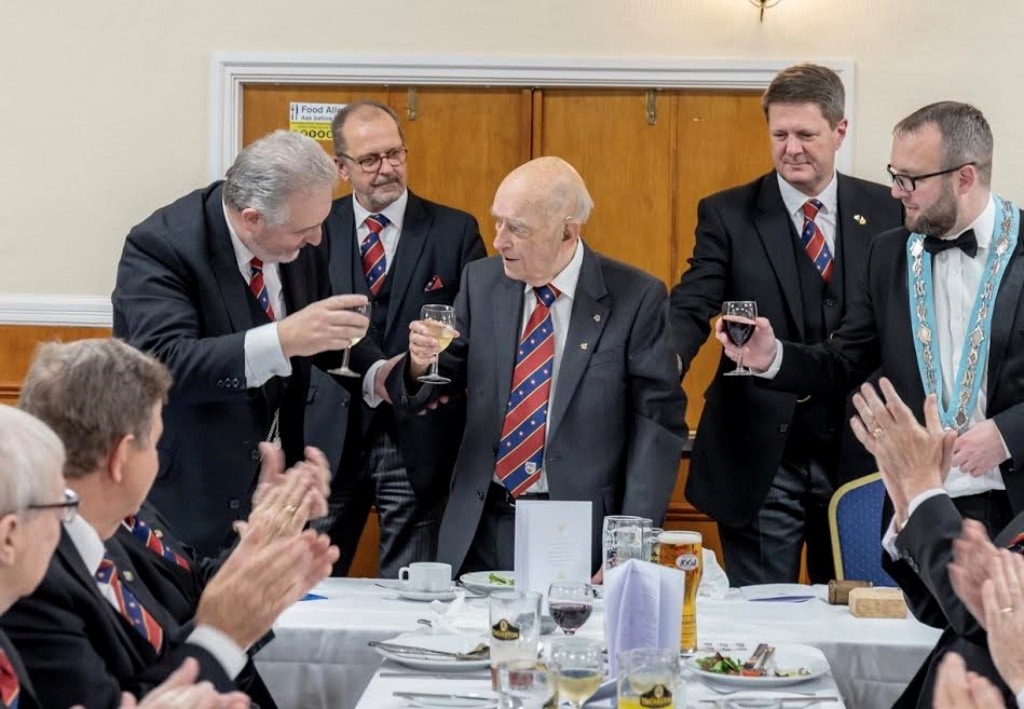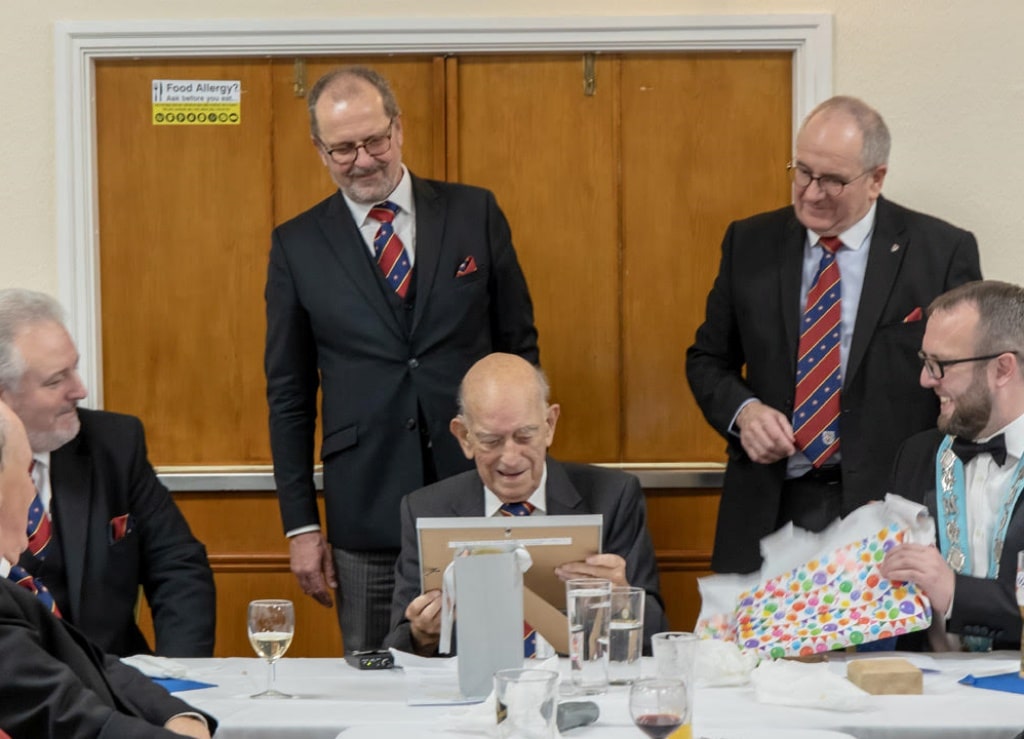 Report by Craig Hindle, Pictures by David Bannister