On the 20th October the APGM for the Southern Area, WBro Reverend Canon Richard Hawkins PSGD, took the chair in the Lodge of Union no 268 to celebrate the 50th Anniversary of the Initiation of WBro Trevor Leslie Jones PProvSGD.
Many present may have attended any number of 50th and even 60th celebrations but this particular celebration would have been a new experience. The reason for this was that the meeting was called off shortly after the APGM took the chair and members of the celebrant's family were admitted to the Lodge room as well as the Ladies and guests of members and visitors.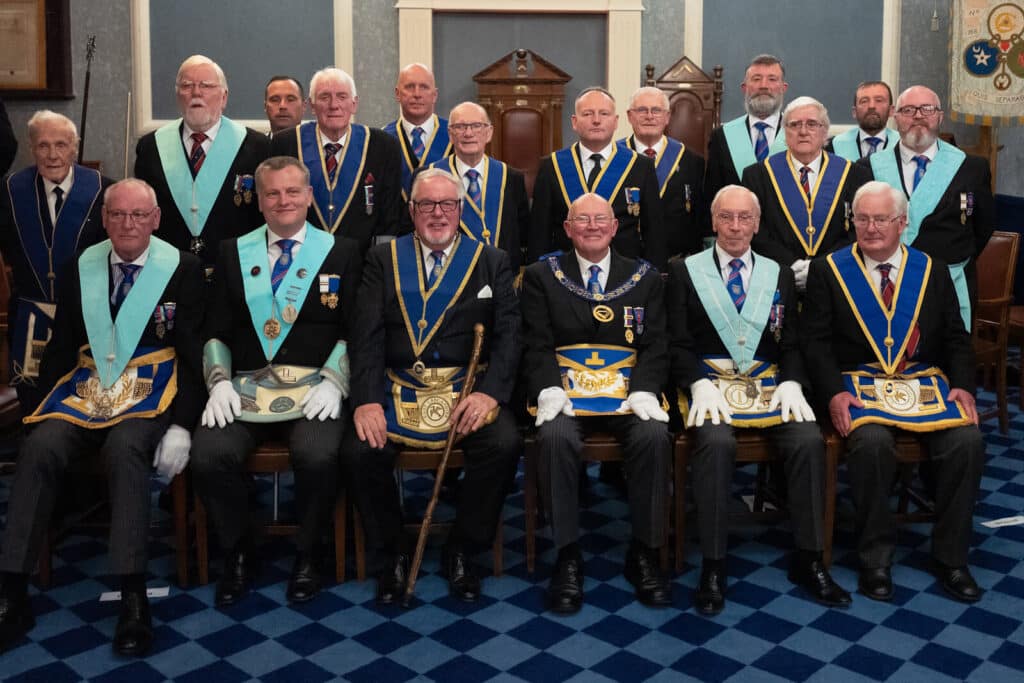 For the visiting non-Masonic guests this was no doubt a first. For many of the Freemasons attending this was also a first. The Right Worshipful Provincial Grand Master Robert Frankl and the Southern Area APGM, had both given approval for the guests to be admitted into the lodge room while all of the officers were in place and in full regalia.
The APGM opened the celebration by asking questions of the audience based on events that occurred in the years: 1943 – year of Trevor's birth, 1972 – year of his initiation in Robert Burns Lodge and 1980 – year that Trevor was elected as the Worshipful Master of Robert Burns Lodge. These questions received a surprising amount of correct responses and they served to give a sense of the amount time and point to key years of WBro Jones' life as a Freemason. 

A more personal account of these years was then delivered by WBro John Feerick who as a close friend of Trevor talked of some of the events such as holidays both they and their respective families had shared over the years. This really demonstrated that for many Freemasons their families play an important part in their membership of the Craft. When the APGM welcomed Trevor's family members he mentioned the important role that family played in a Freemasons life. He went on to note that Freemasonry was not a Secret Society evidenced by the fact we had on this occasion welcomed non-Masons into the Lodge room. The APGM also suggested that many Freemasons wives probably knew the words used in ceremonies better than their spouses having heard them recited repeatedly while their husbands were learning their ritual.
Having WBro Trevor Leslie Jones's children and grandchildren in the lodge room during the celebration was a great privilege and uplifting for many of those who witnessed this occasion.
Report and Pictures from Bruce Robbins
© 2022, all text and images contained in this post are the property of the author and photographer respectively.