On Tuesday 25th January, WBro Peter Rhodes, Assistant Provincial Grand Master, accompanied by WBro Doug Smith, Rochdale District Chairman and a delegation of District Officers had the pleasure of joining The Lodge of Benevolence No. 226 to celebrate the 50th Anniversary in Freemasonry of WBro David St Helier Bisson.
WBro Bisson was initiated into Freemasonry in the Lodge of Charity in May 1971. Over the last 50 years he has enjoyed a distinguished Masonic journey in Craft lodges and became a leading figure in the Province of West Yorkshire Knights Templar.
David chose to celebrate this masonic milestone with distinguished guests WBro Stephen Sheard (PAGDC), WBro Hearl Lenton (PAGDC), WBro Tony Wilkinson (PAGReg), as well as other guests from across the region.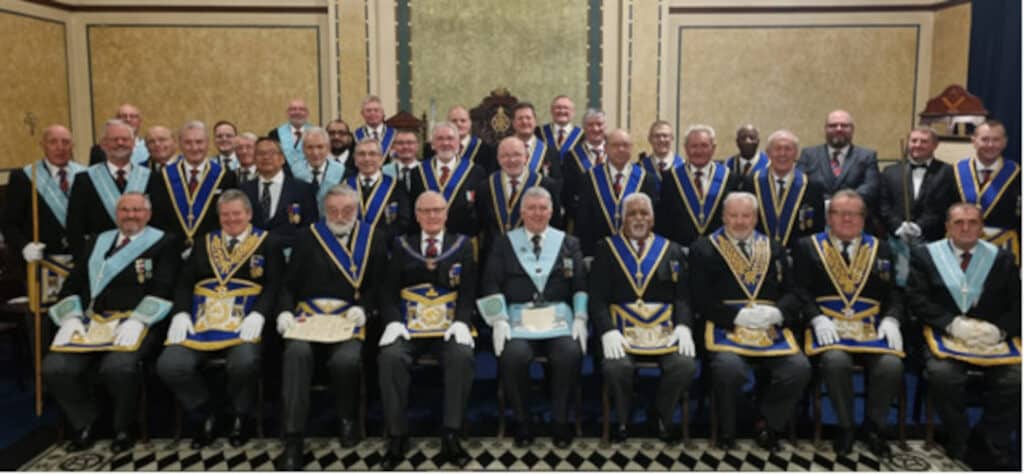 WBro Peter Rhodes led the celebration, giving an insight into David's masonic journey. In addition, a heartfelt tribute was provided by David's close friend WBro Peter Riley. Those attending gained an insight into David's award-winning wildlife and aviation photography. Additionally, we learnt about David's passion for heavily researched and historically accurate unique masonic model making – one of which is to be presented to Knights Templar Grand Master.
WBro Peter Rhodes and WBro Doug Smith closed the celebrations by presenting David with a letter of congratulations from Deputy Provincial Grand Master in Charge VWBro John Farrington and an illuminated certificate.
During the enjoyable Festive Board, WBro Chris Hajikakou, Worshipful Master of Benevolence himself paid tribute to David. He responded with an emotional speech, thanking those both his masonic and personal family for the support they had given him over the last 50 years. David gave a special tribute to Peter Riley, his wife and also his late father, who initiated him into Freemasonry