It was the season's first meeting for the Lodge of Friendship no. 44 on Friday, September the 6th, at Manchester Hall.
It was an extra special night for all those members and guests that attended, a meeting that was enriched by a visit from members of the Manchester Level Club in conjunction with the Young New Masons Social many of whom had travelled from all corners of the country to be part of this special occasion.
The regular business of the Lodge was transacted after which the Brethren were treated to a tremendously moving history of the Masonic career of the father of Lodge WBro David Stevens.
WBro. Stevens described his life in Freemasonry having been a mason since 1977, he was Initiated into Portcullis Lodge in London on Friday, March the 25th 1977. Due to work commitments WBro. Stevens then relocated to the northwest, where one of his work colleagues introduced him to the Lodge of Friendship No. 44 based at Manchester Hall. It was Friday, April 6th, 1979, when David was balloted to be a joining member of the Lodge of Friendship. The Brethren were then treated to a rich history of the many characters of the Lodge that WBro.Stevens had met during his time including the father of the Lodge DC WBro Philip Titterton, namely WBro Lawrence Titterton.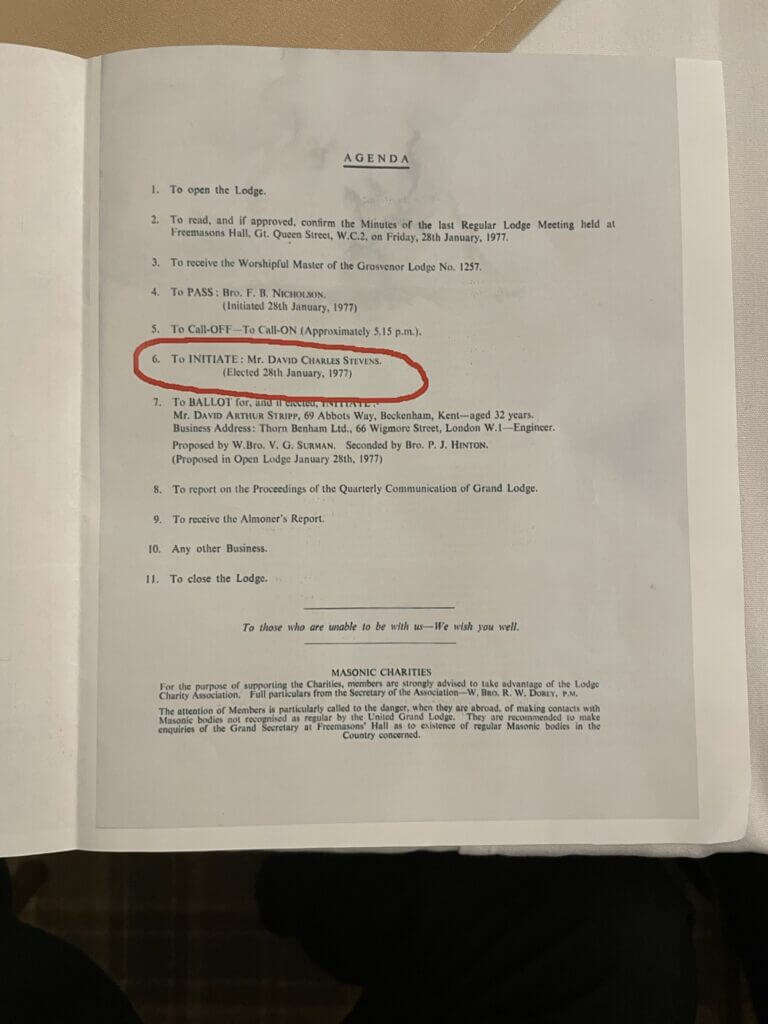 David shared fond memories of many more friends and colleagues that he had met during his journey.
The Manchester APGM Mark Davis delivered a heartfelt tribute to David, thanking him for his many years of service and commitment to the LMBI and Freemasonry in general.
The Lodge closed and afterward there was an excellent social board that saw the usual toasts and another incredibly heartfelt toast was addressed to WBro David Stevens.
The Manchester APGM Mark Davis then delivered the cup to Bro John Berry (A Very keen golfer) who won the return of the annual Lodge of Friendship No. 44 Golf Day a tradition that Bro Berry has resurrected.
WBro Mitch Bryan one of the visiting brethren from Young New Masons Social, gave a robust response to the visitors' toast whilst also praising David on his fabulous Masonic career.