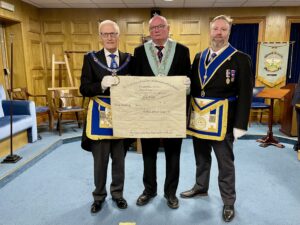 On Thursday 2 October 2023 the Eastern Area APGM, Peter Rhodes was accompanied by a delegation of the Eastern Area Team to Lodge Of United Companions 6895.
On this occasion the visit was a more sombre affair. After 74 years the lodge was to meet for the final time. In a short meeting the lodge was opened, a history of the lodge was read, the warrant handed to the representative of the PGM and the candles extinguished for the final time.
A brief lodge history:
A number of Brethren that met at the Freemasons Hall, Bridge Street discussed the possibility of forming a new lodge which was to hold its meetings at the same building. As the hall was at capacity they decided to meet at Denmark Hotel instead.
It was agreed to make application by petition to the MW Grand Master, to grant them a warrant of constitution empowering them to form a new lodge. The lodge to be named the Lodge of United Companions as they were all Companions of the Royal Arch and season ticket holders to Manchester United Football Club.
There were 15 founding members from Blair 815, Gratitude 3991, Stability 4293 and Reverence 4956. The consecration was held in Manchester on Thursday 15 December 1949.
The Consecrating Officer was RW Bro Sir Edward Rhodes Kt,JP,PGW with Bro JH Niblett being the first WM of the lodge. There were 170 masons in attendance.
WBro Dan Timpany was Installed in the chair in 1951 and later became the Assistant Chief Constable of Manchester, and was instrumental in the refusal of the Kray twins access to Manchester by stopping them alighting at Manchester Victoria station.
The lodge held its last meeting at Denmark Hotel on 16 November 1953, then moving to Salford Masonic Hall holding and holding its next meeting on 21 January 1954.
WBro Jack Stant was Initiated in March 1956 and has completed 67 years as a mason.
WBro David Hewitt was initiated in May 1973 and will be celebrating his 50th Masonic birthday at heis new Lodge in May 2024.
The lodge made its final move from Salford in February 2000 to The Gables in Shaw on the 9 March 2000.
The Lodge celebrated 50 years on the 15th September 2000 with 10 members and 47 visitors present.