On 19th April the Grand Final of the Provincial Quiz took place at Rawtenstall Masonic Hall. There was an excellent atmosphere during the evening with all attending clearly having a good time.  A worthy finale of all the successful heats that took place across the Province which is testament to the hard work by all involved.
A big thank you to all those involved in organising this wonderful event. A special thanks to the RW Provincial Grand Master Robert Frankl and his Wife Fiona for attending, along with the Deputy PGM VWBro John Farrington and Christine and APGM WBro John Griffin and Sue.
Thank you to Chris Henthorn for hosting the final as well as being involved in the majority of the District Quiz Events.
The amount raised from the Festival Quiz across the Province was a magnificent £4,500.
Well done East Lancashire. You should all be very proud of yourselves!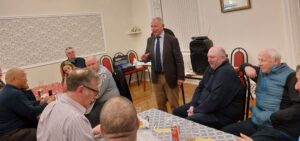 Congratulations to the Festival Quiz Grand Final Winners 2023:
Zion Menorah Lodge No 1798 from City West District
The team members were:
Matt Phillips
Richard Zoltie
Andrew Levy
Jonathan
Michael Bartle
Steve Levine
Well done to Lodge of Harmony No 298 of Rochdale District for coming a close second by 2.5 points
Congratulations to all the Districts for taking part:
Bolton
Burnley
Bury
East Ribble
Rochdale
Salford/Manchester