The Southern Area Carol Service and subsequent Christmas Dinner is a long-standing event that has been enjoyed by many Freemasons along with their friends and families over the years. In the past it has taken place in a number of Churches within the area; including Christ Church, St Michael's and St Peter's. The Christmas meal that followed was at a local Hotel. This year something new occurred the service and the meal both took place at Audenshaw Masonic Hall.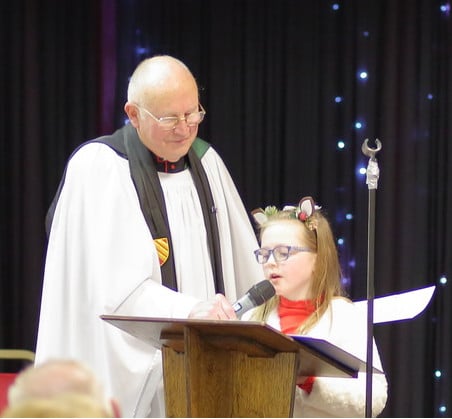 The advantages of the change of venue are, in retrospect, fairly obvious. Not having to travel between, and then park at two distinct venues was something many appreciated. Another significant advantage of using one of the district Masonic Halls was bringing revenue to the Halls after the loss of income incurred during the Lockdown. The wisdom of the change was demonstrated by the doubling of numbers from previous years.
This transformation was instigated by the Assistant Provincial Grand Master for the District. As the current APGM is a Cleric this overcame the problem of finding someone to take the Service and more importantly gave the whole event a special significance. With WBro. The Reverend Canon Richard Hawkin delivering the Service it became a very personal occasion, due to many of those attending being direct contacts known from his Masonic activities.
Utilising the Hall for both the Service and the celebration also gave the APGM an opportunity to introduce some meaningful changes. Amongst these was having a very young, yet proficient, participant deliver one of the readings. Eliana Carr, although still at primary school, has delighted the congregation of her own Church by giving readings in the short time since it resumed regular Services following the lockdown. Her confident participation in this event, a reading from Luke 2.8-16 – The Shepherds go to the manger, did much to remind everyone what the spirit of Christmas is essentially about.
For many years WBro Don Roberts, with the help of many, had organised much of the celebration. His tireless energy again ensured that along with all of those involved, this year was yet again a resounding success. All those from across the district who enjoyed the opportunity of sharing in the act of Worship and the following celebration will have appreciated this start to the season. It is certain that everyone who attended would like to thank all those who worked so hard to make this event so special and such a success.
Bruce Robbins
brucerobbins@me.com